Valentines Day is fast approaching with only four months away, this is a great time to start preparing. People ask me is it not too soon to start planning now? I always say if you want the best crop you have to plant at the correct time. You can't plant today and expect o harvest tomorrow and still think you will produce a good harvest. That is the main reason to start early, Valentines Day gifts for her will also be enjoyed by you. Are they not for you?
Are her gifts, not yours?
In my previous posts, I said, take yourself out of the equation you are buying a gift for your loved one not for yourself. The principle stands but with some room for play. At the end of the Day, it's " V" day, and half of the day belongs to you too!
You know your Lover!
By now, you should know your Wife, Fiance, Girlfriend unless you just met yesterday or you still going to meet her say on "D" day. The day before Valentine. Well, let just deal with that be for we continue. If you have not taken time to learn from your new partner it is safe to plan for a dinner at her choice of restaurant. Well if you met a week before the day a surprise picnic can work. Love is new and exciting, anything crazy is allowed.
For veterans in this field, you know you have to bring you a game unless you are not reading this great post and you forget, then you can op for the above-mentioned options. That is if you survive realizing you forgot and have no plans. Before we get on the Daunting task of getting a Gift for her, let ask.
Why do we celebrate Valentine's day?
The tradition dates back to the third century, two men name Valentine were executed on the 14th of Feb of a different year by Roman Emperor. Their death was celebrated by the Church as St Valentine's day. Centuries later, the day was celebrated alongside a pagan feast. The day was later confused as a day of "Lovers of Women". The tradition of giving handwritten notes began. Many centuries later Hallmark heard of this and built a Billion Dolla company. Well, the short end of it is that we now celebrate the death of executed Valentines, a pagan feast and day for the lover of a woman?
That's a bit confusing when we look at it. Maybe that is why many chose not to Celebrate. We don't want to spend money! This is propaganda! it is a pagan feast! Go fly a kite.
The Joy of Valentines Day
We have chosen to celebrate because we found a new meaning that is relevant to us and we love loving and love to be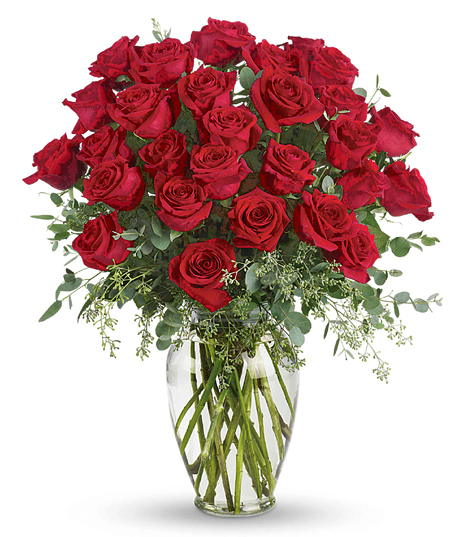 Forever Beloved Red Roses Vase
loved. Whether Philos, Eross, or Agape. Love the one you love.
Let talk about gifts!
Follow the 3 steps to buying a great gift. They are posted on the Christmas post for buying gifts. Gifts can be anything from a written note, to hallmark cards to a bunch of "grass" to those who are in dire need to read this post for enlightenment. Holidays abroad. Finds out your lover's favorite romantic Destination.
Paris in February is not that bad.
Fragrance and Jewelry – Diamonds are a girl's best friend. In this economy, pearls could be a better choice the bigger the better.
Chocolate works well with flowers.
I love longer on my hot new date.
Dinner or a picnic is awesome ideas. I would check the weather report to have alternate plans. There is nothing like cuddling after running in a cool rain in February. Which leads to the day no being decided by the weather.
You are a gift as well be sure to pamper yourself gift wrap yourself with Cologn and shave. Whipped cream does not go well with hair. Passion for the day is a prerequisite, love hugs, kisses, and end the day with a Bang. A nice big cool Desert.
Conclusion
Whether you are celebrating a Pagan feast, if you are not sure what you are doing. It is a day worth celebrating. Make an effort. If you are alone, Agapi is a Greek word for self-love. All of the above mentioned are much more likely to be attained with perfection. Love your Self and pamper yourself to pure passionate self-love. Happy Valentines Day to you all. I Love you, Ngiyakuthanda, Te quero, eu te amo, ich libe dich, je t'aime, Naku Penda, Ke ya go rata.